I'm no interior designer, and I don't really consider myself much of a "decorator," but when it comes to searching the Internet all day long for what I
could maybe possibly
do, I'm an expert.
Today's post is all about another thing I'm not so good at but love doing: sitting. In chairs.
I don't have the best posture... But I love trying out chairs! They are amazing--the world does not have enough. And if you're curious about what MY favorite personal chair looks like, keep reading!
Have you all got a glimpse of the ghost chairs by now? I'm fascinated, to be honest, but I do have a question. It's valid, trust me. What if someone sees your buttcrack? Frankly, I'd be scared to sit in one. I guess this is yet another situation where a good, colorful, THICK lumbar pillow comes into play.
Isn't the art in the picture above pretty? One way to accentuate chairs and keep them looking fresh, especially if you don't want to add pillows, is to hang artwork above the chair. It's possible to change the art every so often; you don't need to think on the expensive side unless you just want to. Discount stores, thrift stores, and consignment shops are several places to look, just to be curious. I have found some great pieces at Ross Dress for Less and HomeGoods, actually, but I still crave some seriously priced artwork.
The light shining on the art in the picture below just makes it.
Big, chunky knit throws seem to liven up chairs as well. Plus they're great to cover up with while you drink some hot tea, read a magazine, and tell yourself you
may
get out of pajamas by noon.
I love white chairs for the ability to rotate accessories in and out. For example, you can change the color of the pillow(s) on the chair from anything to a matching white to the 2014 color--orchid--to a patterned lime green.
I love a nice white chair. From a wing chair to a plush armchair, I'm all for it. If you have a room with a dark color on the walls, a white chair next to it simply "pops." But then again, if you find the right chair that
stands
(haha) on its own and speaks to you, it will have no problem showcasing its unique self.
Which do you like better: the wingback chair or the luxurious armchair?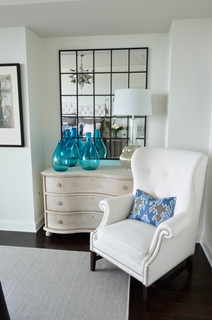 In my bedroom, you will find the most adorable (but chic!) white corner chair with button tufting. I call it my reading chair because I always gravitate towards it when I want to sit for a long period of time but still be comfy. The pillows that I usually have on it are actually for my bed, and my mother picked them out--what a good eye, right?--but I think they really stand out when they're placed on the chair, and hey, that lumbar pillow feels reeeeallyyy good against my back.
This picture shows the pillows actually on my bed! As you can see, against my purple accent wall, my white corner chair seems to really suck up all the attention. You can thank
Huntington House
...and my mom! for the beautiful furniture and pillows. Even Missy Robertson from Duck Dynasty buys her furniture from there. Makes me feel like a cool kid.
Do you have a favorite chair in your space? What do you do to spruce it up?