I've compiled a post of some of the most
crucial
things floating around this week: pretty, shiny objects; bits of information, including groovy quotes; and some newly discovered, beloved websites.
Ready, set, go!
1.
Dear Teen Me
Dedicated to teenagers around the world (but for us nostalgic folks too), this website is basically a place where authors of all genres gather to share their teenage year stories, hoping to reach out to adolescents. Most of the stories that I read were pretty funny--ripe with awkwardness and horrible clothing choices--and it's a great way to get to know an author and possibly look up their work. Plus, the consistency of the material makes for an up-to-date website that you know you'll keep coming back to, if only to reminisce on your Buffy the Vampire Slayer years, or to feel relief as you remember you trashed that Picasso-looking jacket years ago. Either way, give it a looksy!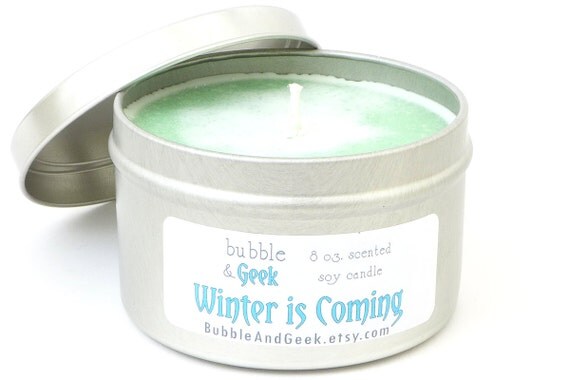 If you're a Game of Thrones fan, then you HAVE to get this candle from etsy seller
bubbleandgeek
. Personally, it's on my wishlist. The soy candle is described as a blend of "garden mint and vanilla." Mmm...I can even smell a hint of Jon Snow in there! ;)
You just lost a friend...your best pal...your pet. I get it, you want to keep something of him/her forever. I did something similar when my dog died last year. It was an extremely emotional time for me--not just because my best friend had just been put down, but because it happened the same day I was to start back at college, my senior year. My memories as a senior will always be intertwined with the death of my friend.
I really wanted something as a keepsake to remember him by because we were so close. My mother was crafty enough (and thoughtful enough) to make me a locket with just a curl of his hair in it. It's something that is extremely dear to my heart, and that I literally wear close to my heart.
The ideas from this link--and the images accompanying them--are pretty creative. I'm not going to knock any of them, because any one of you out there might have an emotional reaction to one of them, and that's OK. Pets are curious critters. We welcome them into our house and somehow they end up in our hearts forever.
4. Quote by K.L. Toth:
"One of the greatest tragedies in life is to lose your own sense of self and accept the version of you that is expected by everyone else."
When I'm writing, this is the easiest thing to succumb to. I self-edit myself to the point where I'm not writing anything that brings me joy or is
me
. I begin to have my relatives' voices in my head, abashed at my poetry and my elaborate detailing of certain events. But every writing professor I've ever had has told me to bluntly get over it! I'm trying. I don't want to lose myself. And whatever your passion is, please don't let your own critiquing or others' critiquing get in your head too much.
I might be obsessed.
These bars have "unsweetened fruits, nuts and spices" in them, "made from whole food," with "no more than nine ingredients"! They're delicious and the best part...they have AMAZING flavors.
Would you rather go through the hassle of making blueberry muffins in the morning or grab a Blueberry Muffin LARABAR?! I know my answer...
Craving a Key Lime pie? Uhh...why waste all those calories when there's a Key Lime pie LARABAR?
Peanut Butter & Jelly, Chocolate Chip Cherry Torte, Pecan Pie, Cashew Cookie (my favorite), and omg Snickerdoodle. The prices are extremely reasonable (usually about $1.79/bar) considering the taste, the nutritional value, and extra goodies thrown in with some like the Cashew Cookie having a fair amount of Magnesium which I really, really need.
Anyhow, don't take my word for it, as they say...
6. Funny Weather Men-- ::Mark Mathis::
Late last night, my family and I were talking about a former local meteorologist who used to make us laugh our pants off. Unfortunately, he was fired from working with Charlotte years ago, but is still active in the news business--in Texas. I found a clip of him on YouTube--although any clip of him is worth watching.
I'm telling you guys, he was crazy. But he actually made me want to watch the news.
That's about it for this week--I've got to finish knitting (or knit-picking, as my friend calls it) some scarves!
Have a lovely weekend xo